All wedding days are unique so why shouldn't your childcare be too?! We offer different packages to suit your day and we work closely with you to make sure it is exactly how you want it.
Bridal Package - This is to ensure the children are entertained whilst the bridal party are getting ready. We provide a small selection of toys and activities we can also get the children changed and ready for the big day
Ceremony Package - The children can be taken to separate area if you don't want them in the ceremony or we can be at hand to take them out if they get restless
Speech and Wedding Breakfast Package -  The children each receive a personalised activity bag and are supervised throughout the breakfast. The children can be taken to a separate area for the speeches
Mobile Crèche - We provide a selection of different age-appropriate toys and activities whilst supervising at all times. This can be throughout the day/ evening picking hours to suit
Evening crèche - This is much like the mobile creche but we provide quieter activities and areas for the children to rest if they need to after a busy day
Evening Babysitting - If you have a room at your venue we can put the children to bed and watch over them until the party finishes. We do offer overnight babysitting as well
Wedding Nanny -  We support the family throughout the day, being an extra pair of hands and ensuring the children are safe throughout the day/evening. We also have the option of the wedding nanny with resources, which means we can bring a selection of toys and activities that the children will enjoy playing with throughout the day.
Personalised wedding breakfast activity bags - We do sell our personalised wedding breakfast bags separately. So even if you didn't want the wedding breakfast and speech package you can still order these bags. Each bag contains a personalised bag and teddy and a range of different activities to keep them entertained at the table. These are £7 per bag excluding postage and packaging.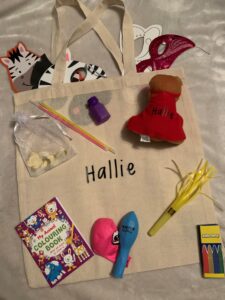 Enquire About Our Services
Get in touch with us today to discover how we can help at your next event!